Go AFK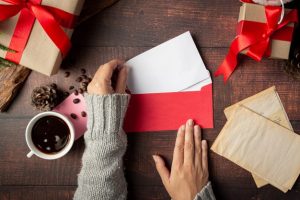 AFK? you may ask. It is the online acronym for Away From Keyboard, meaning that you are doing something in the real world.
During the past few years, we have been living our lives more and more digitally. This development was enhanced by the pandemic, which more or less forced us online. While the digital tools are wonderful in that they make it possible to keep in touch even during trying times, there is also something to be said for real, physical contact.
With the worldwide lockdowns coming to an end, we will be able to once again meet in the flesh and perhaps even hug our loved ones. Not to mention going for a pint with our mates or even travelling abroad for some rest and recreation.
Hand-written Letters
Even though we may be allowed to meet again, it is not always possible due to distance. But instead of writing an email or texting someone you miss, write them a letter or a postcard.
Make your own custom back paper print and use the back as a postcard. You can count on that the recipient will be extra happy by knowing that you took the time to sit down with a pen and write them something, even if it is just a few lines on a postcard.
For a bigger impact, write a letter. On paper, with a pen. This will really show how much you care about the person you're sending it to. It doesn't have to be about something in particular, just a few brief notes about your life and how you feel about it will do just fine.