Go Cycling in Copenhagen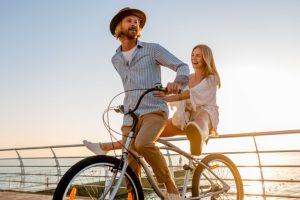 Soon, soon, soon the world will open up again. At least we hope so. We are quite a lot of people who have been longing to go out and about for more than a year now. But with the current uptick in vaccinations, there seems to be a real chance of life getting back to a new normal, which at least will resemble the old normal.
One of the first places we would like to go is to Copenhagen. The friendly Danish capital is among our favourite destinations worldwide. With summer coming up, it is perfect to explore the city on a bike which also gives us some extra space, in case we are still worried about the remnants of the pandemic.
Plan Your Stay
For this trip, this is relatively easy. Book a room at a central hotel in Copenhagen and take out a map of the city. Almost every sight worth visiting will be within cycling distance, so the hardest part will be selecting among the abundance.
We would recommend the art museum Arken, even though it is slightly outside Copenhagen. The architecture and its placement are almost as impressive as the collection of contemporary art.
A visit to the Little Mermaid at Langelinien is a must, and afterwards go around to end up almost across the water at Refshaløen to enjoy some of the best street food restaurants the city has to offer.
While there is more than enough to see and do, don't cram things into your plan. Leave some room for spontaneity and exploration as you go.