Sneak Off on a Get-Away Between Christmas and New Year's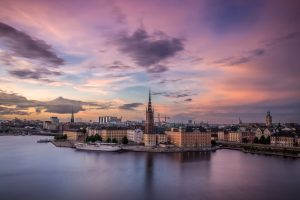 Everybody's talking about the Christmas Spirit, but frankly, it's kind of hard to find, isn't it? Before christmas, there's a million things to shop, wrap, prepare, cook and fix at home. At work, we're working relentlessly to finish up all things to be able to spend the holidays without too much worries about work.
And then, when christmas actually is here, the party is an all day one, with relatives everywhere, sugar high kids running around screaming, unwrapping gifts and crying because they didn't get everything on their wish list… Well, maybe not that bad, but still not too far from the truth. Not really a relaxing holiday.
So give yourself a small gift of Seasonal Spirit. Leave the kids with their grandparents, grab your partner and hop on a plane to Sweden. Book a room at a 5 star hotel in Stockholm, and enjoy each other's company.
Explore the City
Talk a walk around the city. Stockholm Old Town with the typical houses and narrow passageways is lovely and picturesque. Stop for a glass of wine at one of the many pubs. Pass by the Parliament building, and stroll over to the Royal Castle to have a look at the guards.
Visit Skansen to learn a bit more about life in Sweden in the 19th and 20th centuries. In every house there are interpreters in authentic clothes, making the life of olden days come alive. In the workshops, work is carried out manually, creating goods for sale. And while you're there, try the baked goods from the bakery, which is one of the best in Sweden..
Enjoy the Hotel
Remember that the main purpose of the trip is to relax, come down and let the Christmas Spirit in. Talk to each other, and don't overdo the sightseeing.
instead, take advantage of the hotel room. Have a glass of champagne in bed. Order room service for dinner. Watch the telly. Talk to each other. Take a bath. Sleep in. Spend time at the breakfast, and try everything that is good, and not only the healthy stuff. Have more coffee than you should. Take an extra waffle. Have a nap after breakfast, before checking out.
There – a relaxing getaway. We promise you'll feel better about christmas afterwards.