Ski Lodges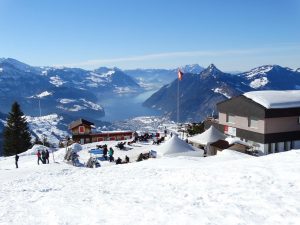 "Going skiing" can mean a lot of different things, depending on your interest in skiing. Therefore, there are many variables to consider when selecting lodging in ski resorts. One thing that is important regardless of other factors is the distance to the lift. The closer to the lift, the better. There is nothing more annoying than having to walk a long distance in your ski boots just to get to the lift in the morning.
Comfort Levels
The level of comfort you require may be impacted by your budget. Of course we would all like to stay at a luxury spa hotel, but not all of us can afford it. Therefore, you need to balance the comfort level you require and the money you are willing to spend.
Hard core skiers can make do with a low comfort level, as that will allow them to stay longer or buy better equipment. If you are not as much of a skier, then you may want some more service at your lodging. Everyday cleaning and a private bathroom could be something of a minimum comfort level for many ski trips.
If you have the money to spend, staying at a luxury hotel is of course a great way of making the ski trip into something more.
After Ski
One thing that is closely connected to skiing trips is of course the after ski. When the day at the slopes is over, you head for a bar, have a beer and recount all the highlights of the day.
At most ski resorts, there are a few places where most of the people meet at the end of the day. If you are lucky, one of those places is situated close to your hotel. Walking home with your equipment after a full day of skiing and then a couple of beers could be a dangerous undertaking.
Remember that the after ski is a rather brief activity. While it is accepted to wear skiing clothes and ski boots at the after ski, it is commonly recommended to shower and change into normal clothes for dinner. In most resorts, there are plenty of restaurants to choose from. Try some of the local specialities when dining.